Hafizah Ghazali is an emerging sustainable fashion designer who promotes environment and social responsibility.
Alia Abdullah is the co-founder and editor-in-chief of Muslim.Sg. In 2021, she won the Exemplary Skillsfuture @ Public Service Award, a national award that recognises individuals who constantly upgrade their competencies. A law graduate and digital media specialist, Alia is an exceptional writer whose work has been featured in Young Women in Leadership Dialogue's (YWILD) Commemorative Book "Unprecedented - To the Beat of Her Own Drum" and on platforms such as Mvslim and The Muslim Vibe. Alia lived and worked in Saudi Arabia for 2 years. She is now based in Singapore.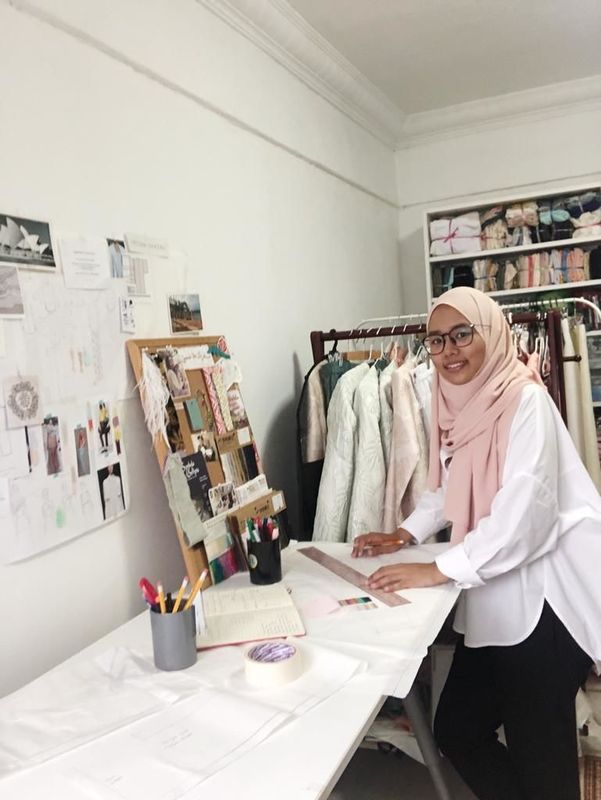 Fashion designer Hafizah Ghazali, 28, grew up in a close-knit family of 6. For 13 years, she attended Madrasah Al-Ma'arif Al-Islamiah, an all-girls' Islamic school. Carving out her own unique path, she went on to complete a BA (Hons) degree at LASALLE College of the Arts, majoring in Fashion Design and Textiles. 
In 2019, Hafizah, who currently works at Unilever, started HAFIZAH GHAZALI, her own conscious womenswear label. 
Beyond just creating beautiful contemporary and modest pieces for urban women, she focuses on ethical manufacturing and empowerment of local communities. 
To create her Hari Raya collection in 2019, Hafizah partnered with the ladies from Lady Ayaz Sewing Centre, who received vocational sewing training as part of the UNHCR Safe from Start program.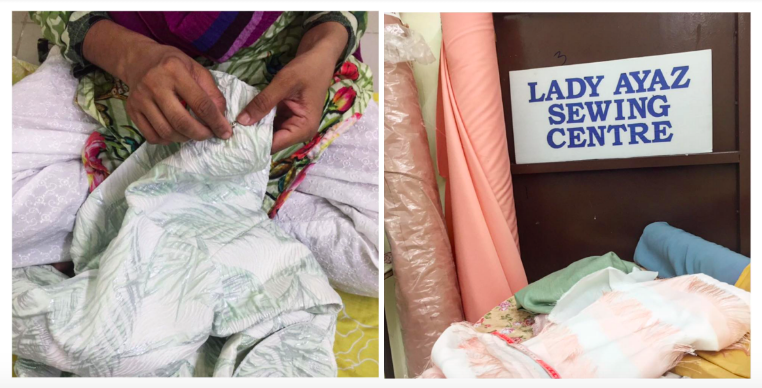 When Hafizah and her team shares about the makers and people behind the clothes they produce, customers are able to connect and understand more about the processes involved in garment-making. As a slow-fashion label, her hope is for them to cultivate a deeper sense of appreciation for their clothes.

Taking action to protect the environment
 
Hafizah has always had a soft spot for the environment. When she was 14 years old, she galvanised her closest friends to clean up a park at Tampines. 
She is an active volunteer and senior mentor with Majulah Community, a non-profit organisation that runs empowerment programs for youths from various socio-economic backgrounds. As Program Lead, Hafizah was the first to initiate conservation projects in Sumatra. 
 
"Today, Majulah Community continues to serve the community. We work with numerous partners to create platforms for the youths to get involved and give back to society."

Producing conscious clothing in a consumerist society
On top of being passionate about making beautiful, high-quality clothes, Hafizah constantly reflects on what women need and how she can add value to their wardrobe choices. 
She believes that beautiful clothes should not only be pretty, iron-free and make women feel good but also not cause negative social and environmental impact. 
"This industry that I pursue, is also the same industry that clogs up landfills, pollutes water bodies and exploits garment workers. For this to stop, there needs to be a certain level of transparency in the supply chains so that customers are encouraged to make more mindful decisions."
Hafizah took it upon herself to bring this to light through the work and clothes that she makes. Her goal is to improve the way garments are sourced and produced and empower our customers to consume mindfully.
Planting trees with every purchase made
Hafizah highlights that Leuser Ecosystem in North Sumatra and Aceh, Indonesia is the only region in the world where elephants, orangutans, tigers and rhinos co-exist. This area is being threatened because of oil palm plantations and logging.
She said that she was thinking of what she could do about it and remembered that Prophet s.a.w. said, "Never does a Muslim plant a tree or cultivate a plantation, and then a bird, or a person or an animal eats from it, but is regarded as a charity for him."  (Hadith by Imam Bukhari)
Hence, she decided to channel a percentage of the sale proceeds from her Hari Raya collection to IUVA Global for their forest regenerator projects at the Leuser National Park in Sumatra.
"When we announced the news to our customers via email, the feedback we received was incredibly positive and encouraging. I'm thrilled that my customers appreciate our small efforts. That to me is priceless."
To date, HAFIZAH GHAZALI has planted more than 100 trees!
Coping with difficulties through faith
Hafizah bravely admits that this eco-journey has not been easy. 
"There are days when I think I'm too small and the messages that I wish to share is insignificant. There are also days when work gets too overwhelming or worse when the designer's block comes around."
Hafizah trusts that every obstacle she faces is predestined by Allah s.w.t, and believes that He is the only one who is able to get us out of it. She seeks respite in her favourite verse from the Quran, that was taught by her former principal Ustazah Sukarti Asmoin:
"..and when you have taken a decision, put your trust in Allah. Certainly, Allah loves those who put their trust in him." 
(Surah Ali-'Imran, 3:159)
 
The verse resonates with Hafizah so much that she remembers writing it on a piece of paper and pasting it on her wall.
"I hold on to it dearly till this day and it has helped me through my toughest moments. When we have given our all in something that we do, have faith that Allah is the best disposer of our affairs." It is this trust in Allah that gives her the strength and contentment to keep striving and carry on.
Aspiring for a community that cares
Hafizah's wish for our community is that we take more initiative and be action-oriented on matters concerning the environment.
She believes that it is time to question the makers of our clothes on their sourcing and production methods, just like how we question whether our apples are really organic, pesticide-free and promote ecological balance. Hafizah hopes that more people reflect on the impact of fast fashion.
"If the cost of dirt-cheap clothes is garment workers living in poverty and production houses cutting corners on health and safety… Then it's time we check if we are buying responsibly."
Her goal is to keep educating and sharing as much as she can until the culture of conscious consumerism becomes a norm in our children's time.
"Once we understand the wisdom behind it, it gets easier to align ourselves with the sustainable journey. Remember that Allah s.w.t. gives us the responsibility to care for the ecosystem and choose the road with less or no destruction."