Bishop Terry replied with an equally heartwarming letter that expressed empathy and solidarity with the Muslim community.
Muslim.Sg is a one-stop online media platform that aims to inspire and empower millennial Muslims with powerful and engaging Islamic religious content.
Singapore Mufti Dr Nazirudin Nasir Sends Touching Letter to Bishop Terry on Holy Week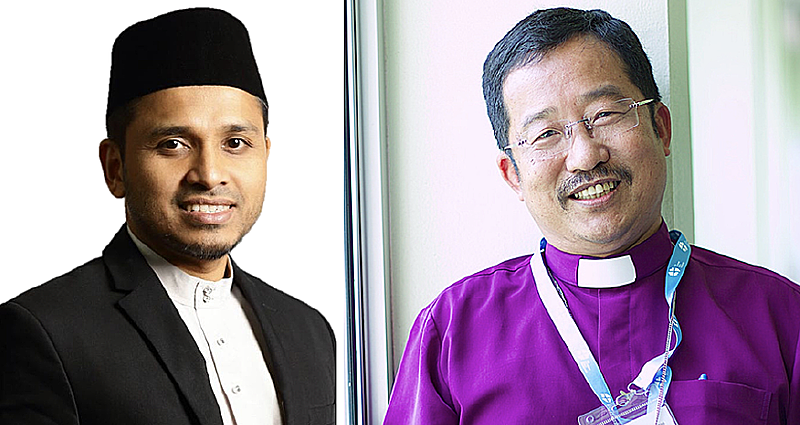 On 8 April 2020, Muslims in Singapore commemorated a special night known as the Nisfu Sha'ban. It is a night of deep spirituality and a reminder that the holy month of Ramadan is two weeks away. 
In the same week, the Christians are preparing for their Holy weekend - beginning with the Good Friday on 10 April 2020 and ending with Easter Sunday on 12 April 2020.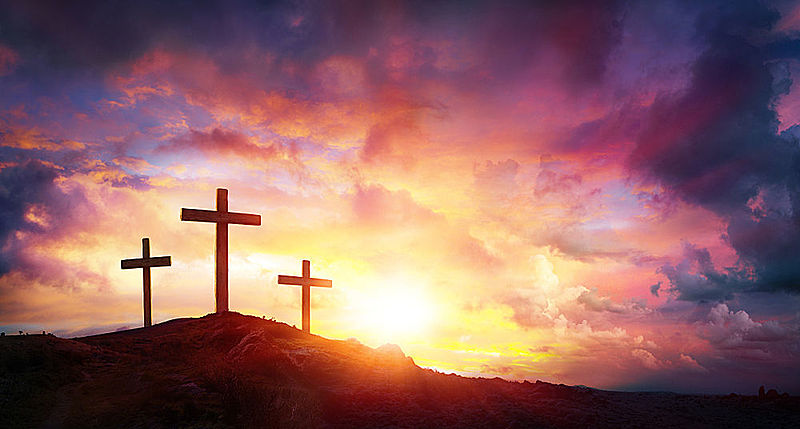 Muslims and Christians mark these holy commemorations this year in the backdrop of the COVID-19 pandemic. Places of worship from mosques and temples to churches remain closed. With the circuit breaker measures currently put in place, we are not able to commemorate these spiritual observations beyond the physical space of our homes.
However, faith remains strong as faith communities make adjustments to their religious lives in facing COVID-19. The Muslim and the Christian communities have rallied behind one another, giving support and uplifting each other - showcasing the true spirit of religious harmony and unity as Singaporeans. Read 'What Does Islam Really Say About Muslim-Christian Relations?'
The Mufti of Singapore, Dr Nazirudin Nasir penned a heartfelt letter to Bishop Terry Kee, the President of National Council of Churches of Singapore (NCCS), expressing the best wishes from the Muslim community to the Christian community on the special occasion of the Holy Week, Good Friday and Easter Sunday.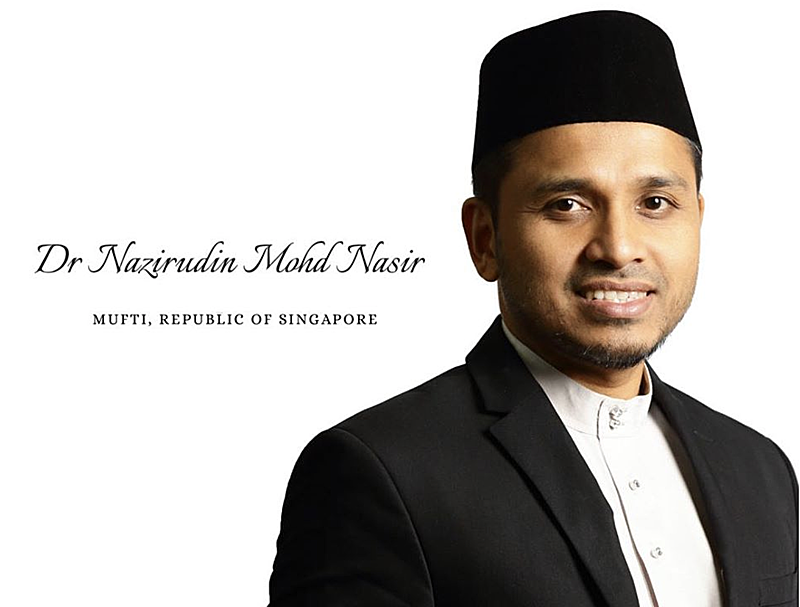 Period of contemplation for both faith communities
In his letter, Dr Nazirudin highlights that this is a "contemplative time" for Christians and Muslims. Thankfully, the "respective faith traditions empower us with meaning, values and lessons that will make us stronger and more resilient" in facing these trying times. Because of the COVID-19 outbreak, it is important for both communities to renew hope and dig "deep within our faith traditions for optimism amidst a bleak and gloomy global situation".
Our commonalities inspire us to spread peace and make this world a better place
Jesus, who is special to Christians and Muslims, preached the message of peace. For the Christian community, "pain and suffering gave birth to God's forgiveness and salvation through the ultimate sacrificial act of Jesus". On the other hand, Muslims "value Jesus' special place and role, especially through his miraculous healing works". 
"We are indeed inspired by our commonalities, not only in the ways we understand the world and its religious history but also in our shared struggle to make this world a better place."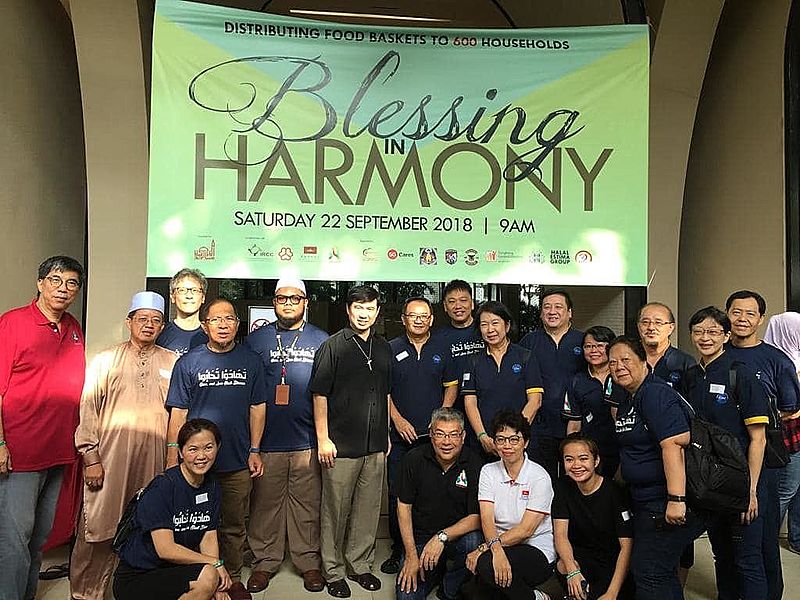 Muslims empathise with Christians in this period
Dr Nazirudin explained that both faith communities in Singapore are facing unprecedented challenges. He reveals that Muslims empathise with the  Christian community who will not be able to "celebrate these momentous events in the most ideal way". He emphasised that the same prospect may also be experienced by the Muslim community as we welcome the month of Ramadan and Hari Raya. He expresses his hope for Bishop Terry and the Christian community to "continue to persevere and be able to celebrate meaningfully" with their loved ones.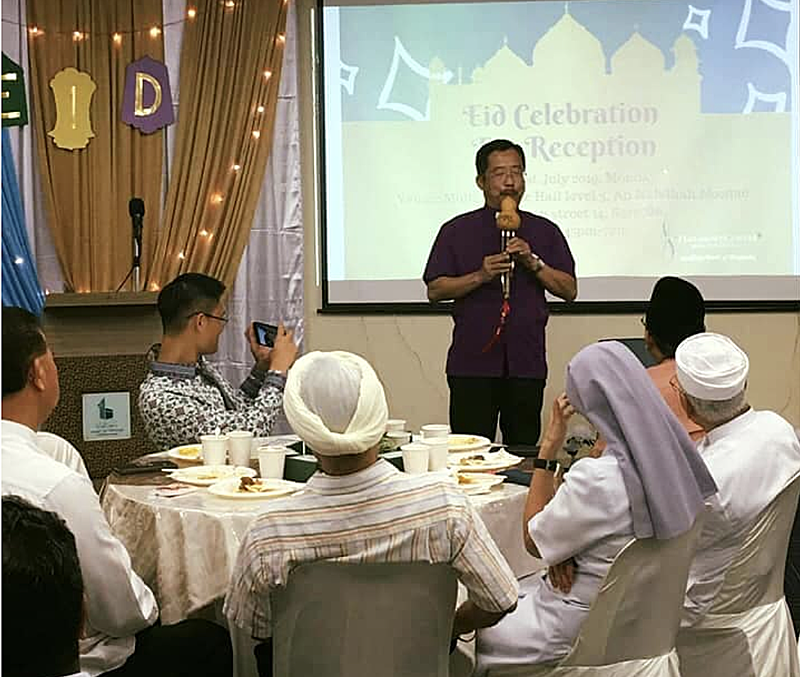 The crisis will deepen our friendship and make us stronger as one united Singapore
Mufti emphasizes that the crisis "will bind us even stronger in our commitment and resolve to support one another as we face an uncertain world and future". Nonetheless, he ended his letter by expressing his confidence that "with greater unity and deeper friendship, we will emerge stronger as one united Singapore."
His heartwarming letter left the internet with warm feelings: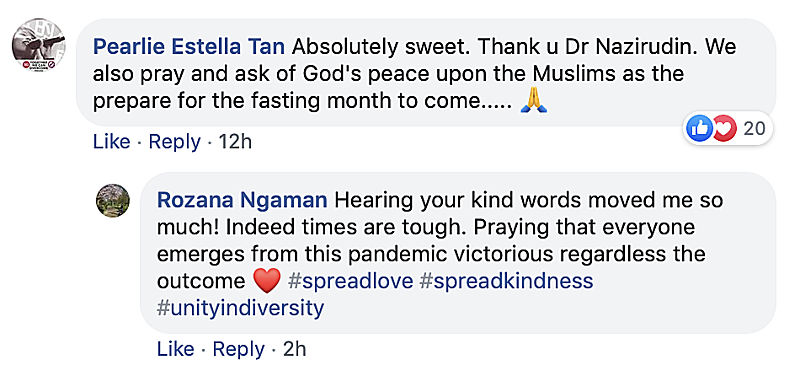 You can read Mufti Dr Nazirudin's full letter here: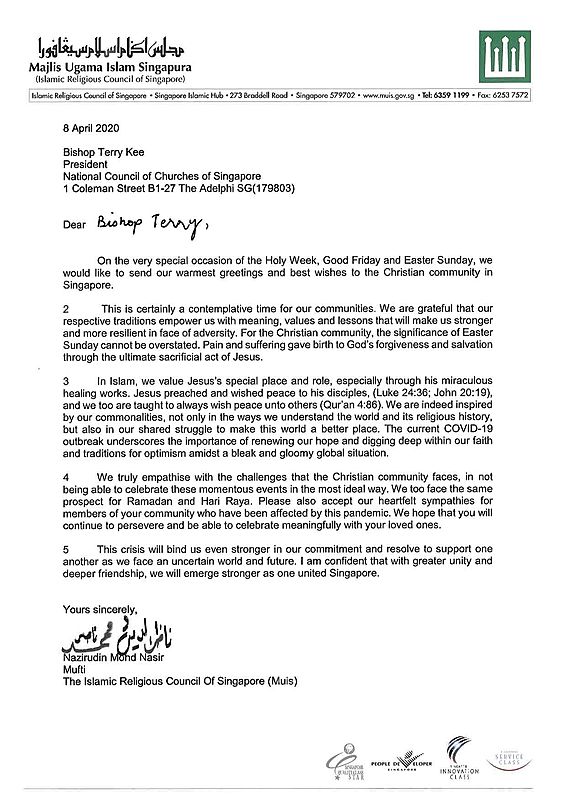 Photo credit: Terry Kee/FB
Touched by the letter, Bishop Terry wrote back immediately, expressing his appreciation for the "warm greetings and well wishes". He shared that the COVID-19 pandemic has helped the Christian community to "focus on the core" of their beliefs and draw together "in one spirit to reflect anew on the forgiveness" that their Lord brought upon his death, and "on the hope that the resurrection brings".
Empathy and solidarity with the Muslim community
Bishop Terry highlights that they know they are "not alone in having to make adjustments" and "remember the Muslim community" as we prepare to "welcome the holy month of Ramadan". They also empathise with what we "must be experiencing in preparation for Ramadan and can appreciate that this must have been a most difficult time since mosque closures several weeks ago". However, they are "convinced of the resilience of the Muslim community in the midst of these challenges". 
He ended the letter by thanking Mufti Nazirudin for his friendship and expressed his confidence that "this crisis will bring us closer as fellow Singaporeans united in one country".
Read Bishop Terry's letter below: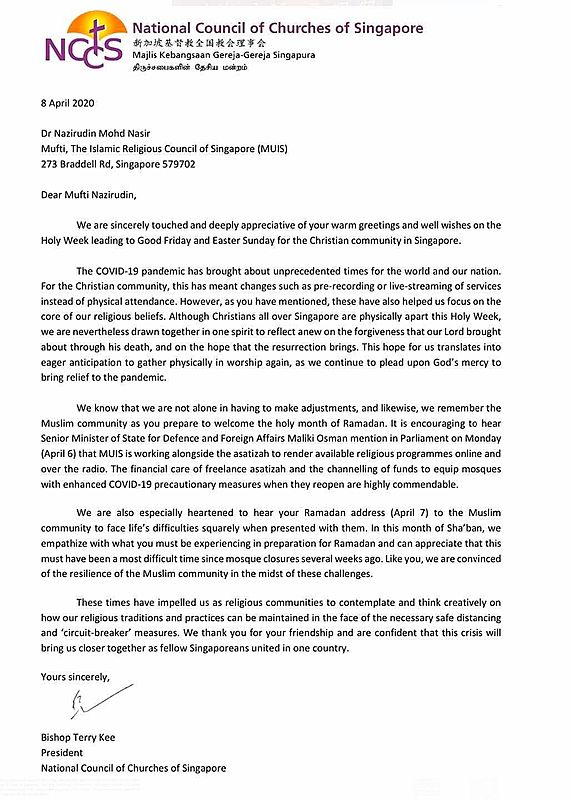 Photo credit: OnePeople.sg
We are all one, but many. This moving exchange by Mufti Nazirudin and Bishop Terry reminds us that we have more in common than that which divides us.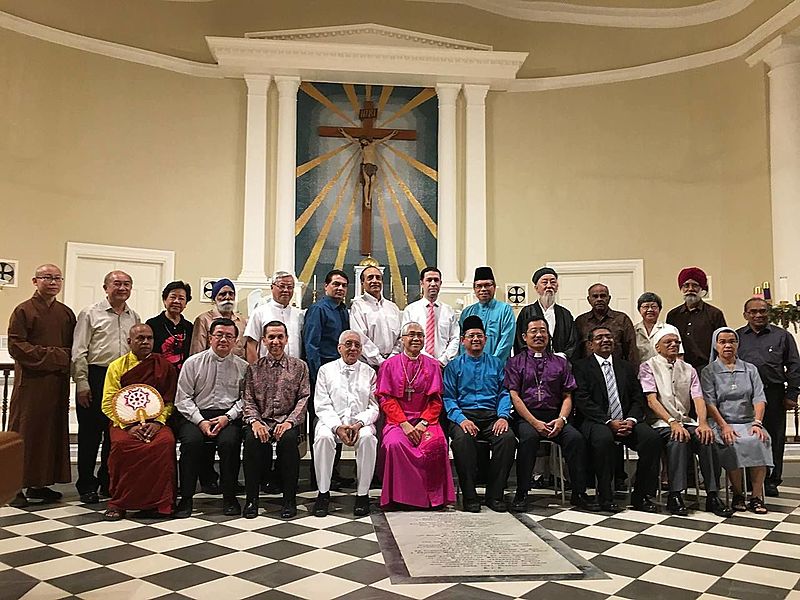 The commonalities shared by both the traditions of Islam and Christianity are not new. During this COVID-19 pandemic, our lives depend on one another. We see that we need each other more than we ever knew. 
So let's unite and emerge even stronger than before. <3
Read Muslim, Christian leaders reaffirm friendship after detention of youth for planned terrorist attack on Singapore mosques