Stories of Asnaf: When single mother, Ms Salina was told that her child suffers from chronic kidney failure, her life was shaken to its core. Yet, with Zakat she perseveres through her new normal.
Ms Salina Masri Khan, 38, was shattered when she learned that her youngest child suffers from chronic kidney failure about four years ago. Her daughter was just three years old then. 
Now, Sharifah Hayrah Aqisyah Syed Nabil is seven.
Ms Salina has two other sons – Syed Haziq Irfan Syed Nabil, 12 and Syed Hanz Naufal Syed Nabil, 10. 
"I was devastated when I was informed of her illness. I kept asking myself why she had to be the one instead of me," said Ms Salina, a single mother. 
According to her, her daughter's left kidney is no longer functioning, and she has to take seven different medications every morning and evening.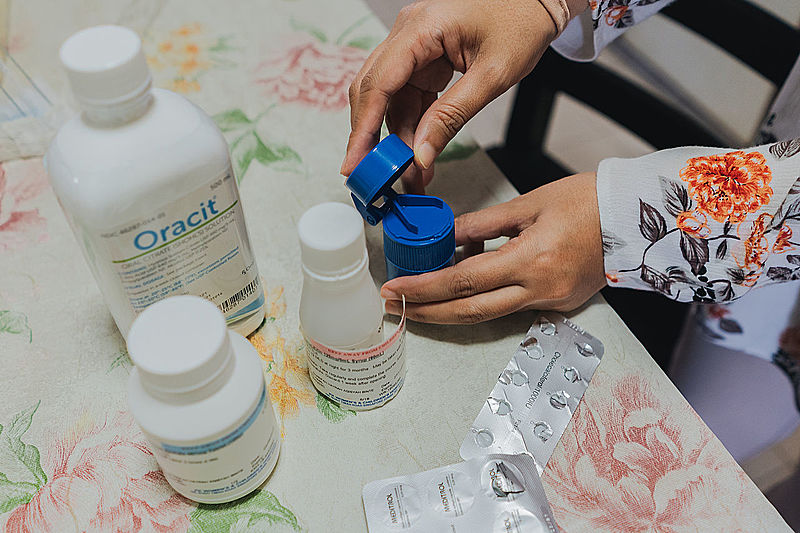 "The doctors did not encourage dialysis for her because she is still very young and we were waiting for a kidney transplant," she said.
A NORMAL FEVER IN DISGUISE
Ms Salina said that her daughter had frequent fever, especially when she was between six to eight months old.
However, at that time, Ms Salina did not think much of it and thought they were normal fever. That changed when she had to bring her daughter to the Kandang Kerbau Hospital for Women and Children (KKH) one day.
"We just got home after a doctor's appointment at KKH when I received a phone call from the hospital. The doctor advised me to send my daughter back to the hospital as soon as possible."
"I was later informed about her kidney failure. She had to be hospitalized for around 16 days due to her fluctuating temperature," she said.
However, Ms Salina found strength in her own sick daughter who has always been active and cheerful.
"She was the most 'hyper'," she said. 
She brings her daughter to see the doctor once a month.
STRUGGLES AS A SINGLE MOTHER
Despite her troubles as a single mother, Ms Salina gathered herself and focused her energy on generating income for her children and her aged parents.
Ms Salina is a frontline officer at the Singapore National Eye Centre where she has been in service for almost 19 years. She is the sole breadwinner of the family.
She and her children live in a four-room HDB flat owned by her parents. Ms Salina was officially separated from her husband in 2016.
Her father, 64, is diabetic and is wheelchair-bound after his right leg was amputated in 2018. Her mother, 60, is a homemaker and engages in a small home-based business baking and selling pineapple tarts and 'kuih makmur'. 
Ms Salina's monthly salary of $2,000 is not enough to cover her family's expenses, which include herself, her school going children, and her aged parents. This is on top of the monthly mortgage for her parent's HDB flat.
SEEKING ZAKAT ASSISTANCE
For that reason, Ms Salina sought financial aid from the Islamic Religious Council of Singapore (Muis) at her family's suggestion. Her request was fulfilled, and she has been receiving Muis Zakat financial assistance since December 2015.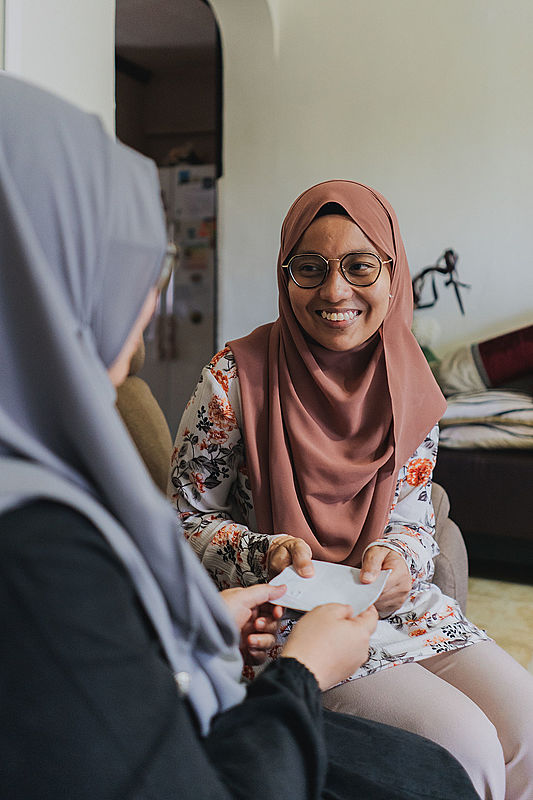 "Alhamdulillah, the Zakat financial assistance from Muis has helped me immensely to offset some expenses such as my children's schooling needs and their allowance and groceries," she said.
Ms Salina used to be anxious and stressed about how she was going to raise her three children alone. With the help of Zakat and encouragement from her family, she now has the confidence and is hopeful of the future.
FOR HER CHILDREN
Ms Salina also attends counselling at the Trans Family Services with her children due to the domestic violence that she experienced during her marriage.
Through the counselling, she is able to understand her children better, especially her eldest son who has great ambitions. He hopes to achieve great results for his PSLE later this year.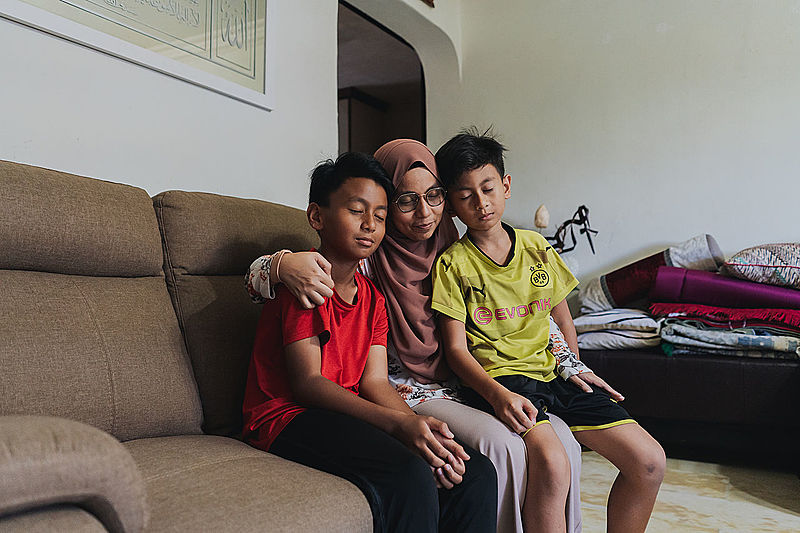 "Alhamdulillah, it is indeed a blessing in disguise that we live with my parents. My father would guide my children on Islam and faith, such as how to pray," said Ms Salina.
All of her children attend the weekend madrasah as well as the afterschool programme at Al-Ansar Mosque.
For Ms Salina herself, who is also active at the mosque, faces Allah s.w.t in order to cope with life's challenges.
"I tell everything to Him," she said.
Even though she is in difficulty herself, Ms Salina is grateful for what she has as she realizes that there are many more who have it harder than her.
"I am grateful to Muis for helping my family so much. I hope that those who are undergoing their own problems never give up because Allah s.w.t is always with us. Don't be afraid or ashamed to seek help because someone will help," she said.
Ms Salina said that her mother is now encouraging her to upskill herself by attending Skillsfuture courses and she is hoping to be able to do that in the near future.
---
Eight Asnaf
Mdm Salina's family falls in two of the categories of 8 asnaf who have rights over Zakat – asnaf fakir and miskin.
Asnaf Fakir and Miskin refers to one who has insufficient means of livelihood to meet his or her basic needs and the Zakat disbursement includes monthly financial assistance, special assistance during Ramadan, and supportive programme grants.
For more information on Zakat
Muis Zakat website: www.zakat.sg
Muis mainline: 6359-1199
Need assistance from Zakat?
Visit any of the Social Development Mosques listed here.
Due for your Zakat payment? Click the button below to make payment online.