Despite losing a leg in a road accident, Mr Azman is determined to be independent. With Zakat, his burdens as a single senior living alone are eased.
Mr Azman Rahmat, 58, met with a road accident in 1985 with his ex-wife. The accident caused his right leg to be severely injured, and later amputated.
However, Mr Azman refused to allow his disability to dictate his life and his future and he intended to remain independent. With encouragement from his late father, Mr Azman persevered through on the road to recovery.
Two years after the accident, in 1987, Mr Azman learnt to walk again after being given a prosthetic leg.
The accident was never an obstacle for him as he started to find a job with his GCE 'O' Levels certificate. Not long after, he was given an opportunity to work as a machinery worker at Micro-Mechanics in the semiconductor industry. He worked for the company for almost 12 years.
During his stint at Micro-Mechanics, Mr Azman even managed to upgrade and upskill himself to become a trainer. He had the opportunity to conduct trainings in the Philippines and Penang Island.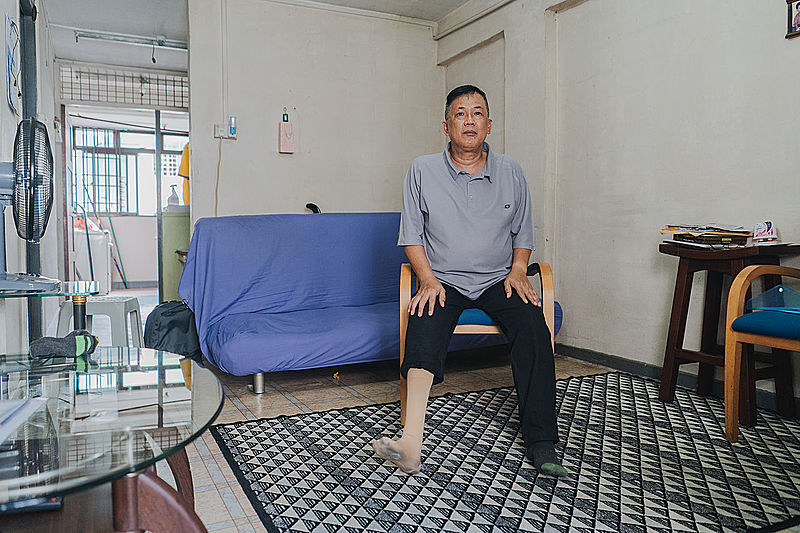 Shortlived career
Unfortunately, his role at the company was short-lived. Mr Azman was retrenched during the 1998 Asian Financial Crisis. Upon his retrenchment, he decided to work as a security guard to ensure an income stream.
However, the role of a security guard proved to be too much for Mr Azman who found the long hours standing and walking, taxing on his legs.
Fortunately for him, he soon found a job as a janitor at a private tuition center. The role required him to work for just five hours a day and he stayed at the job for almost nine years.
When the tuition center transferred to a new location at Waterloo Street, Mr Azman decided to leave.
"My prosthetic leg is old; I have used it for many years. The new location where the tuition center moved to has no lift, hence it was difficult for me to be mobile – walking up and down to the classrooms," he said.
A new prosthetic leg
During that time too, Mr Azman appealed for help from his grassroots MP in MacPherson, Ms Tin Pei Ling. He enquired if he was able to get a new prosthetic leg.
"I told her (Ms Tin Pei Ling) that I could not afford a new prosthetic leg. She told me not to worry and just go ahead with it," Mr Azman said. He received a new prosthetic leg to replace the old one just last year.
However, Mr Azman was still in financial difficulty as he was not able to work, and his income stream has been cut off completely. For that reason, he decided to seek Muis Zakat financial assistance.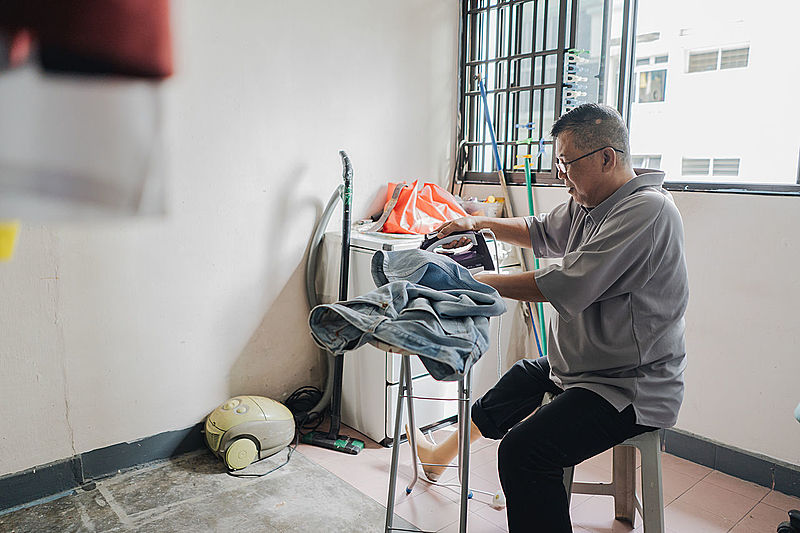 His request was fulfilled and Mr Azman has been receiving the Zakat Financial Assistance for the last two years. The Zakat monies help him tremendously in paying for his daily necessities.
"I am extremely grateful for the help that Muis rendered with Zakat, Alhamdulillah. Whether it is enough or not, that is for me to manage," he said.
Upskilling for the future
Mr Azman, who lives alone in a two-room HDB flat that he purchased fully by himself, is still working hard to be independent. He recently upskilled himself and attained a Skillsfuture certificate in digital workplace, with encouragement from the Social Services Office (SSO).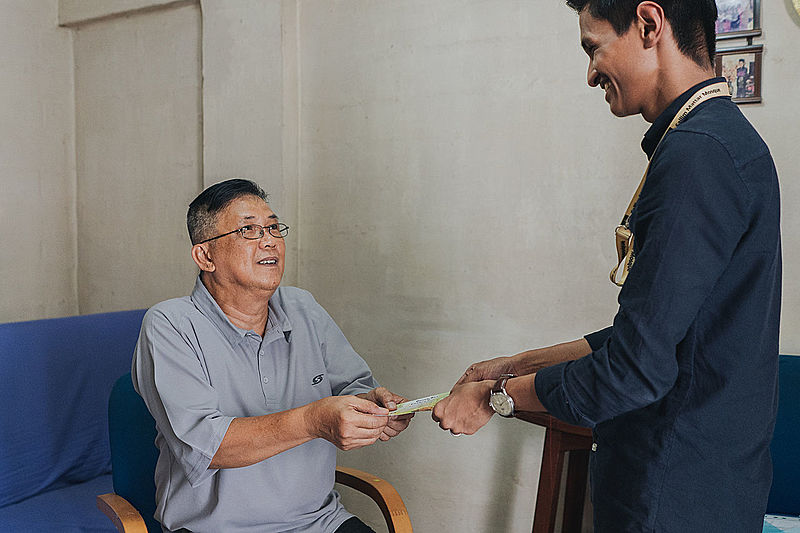 Although Mr Azman looks healthy on the surface, he admitted that his leg is weak and that has hindered him greatly.
"I am contented with my life but sometimes, I feel said that I was not able to fulfil some of my wishes," he said.
"People look at me and think that I ok with walking. The truth is, I can only walk short distances. Any further, I am not able to," he added.
Mr Azman also said that after two years of unemployment, he is not optimistic about the job options even though he desires to return to work.
"I am thankful for the things that I have and I cannot ask for more," he said.