Alia Abdullah is the editor-in-chief of Muslim.Sg. In 2021, she won the Exemplary Skillsfuture @ Public Service Award, a national award that recognises individuals who constantly upgrade their competencies. A law graduate and digital media specialist, Alia is an exceptional writer whose work has been featured in Young Women in Leadership Dialogue's (YWILD) Commemorative Book "Unprecedented - To the Beat of Her Own Drum" and on platforms such as Mvslim and The Muslim Vibe. Alia lived and worked in Saudi Arabia for 2 years. She is now based in Singapore.
 Malay-Chinese Muslim Celebrates Chinese New Year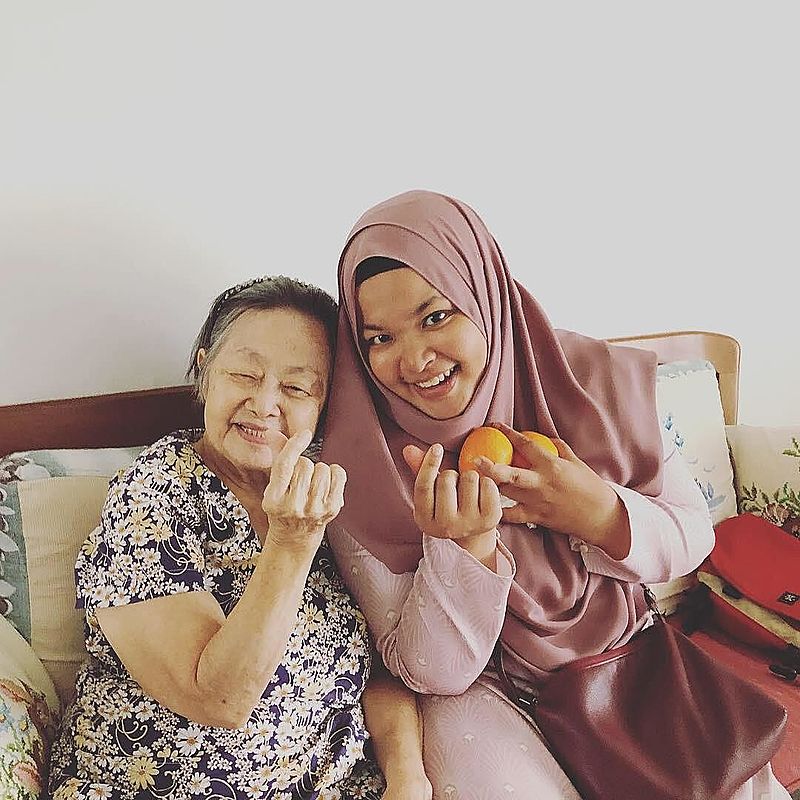 Sakinah Rafiq Tan Hui Ling, 28, sometimes feels like "a platypus of the human race". She can communicate in 6 languages including Korean, Arabic and American sign language. She's Chinese but wears the tudung (Muslim headscarf). She's Singaporean Muslim but doesn't speak Malay. 
In 2016, a photo of Sakinah sheltering her grandmother, Annie Loh, from the rain went viral. Some people who saw the photo thought that it was part of a government campaign to promote racial harmony. Others thought she was a maid.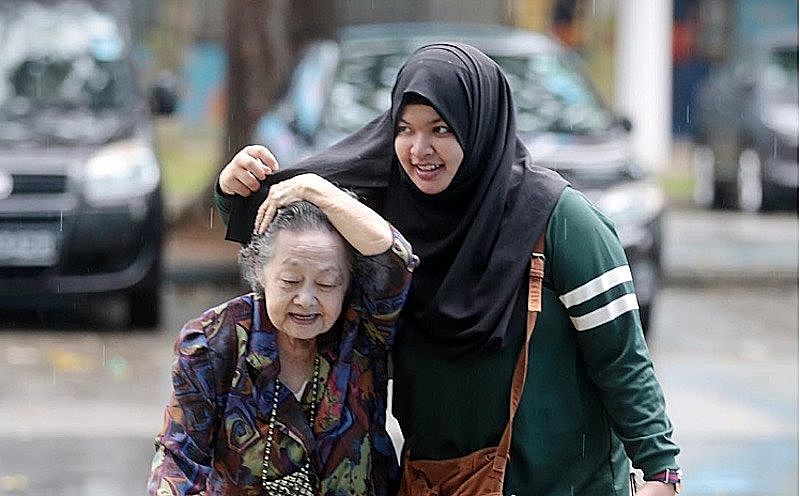 Photo credit: Today/instagram
But what really happened that day? They were returning from her grandmother's health check-up. When they stepped out of their Grab, it was drizzling and her grandmother complained, "Why didn't you bring an umbrella?" Sakinah explains, "My Nai Nai (grandmother) is a very fierce woman and she's particularly prickly like a porcupine. So I like to be cheeky with her." So Sakinah replied, "Nevermind, it's okay. I'm wearing an umbrella" and sheltered her with her tudung. Her grandmother laughed and said, "Sakinah, you nonsense lah!"
Sakinah's grandmother has never questioned her faith. In fact, she knows the prayer timings very well and would remind her to pray. "Whenever I come over, she knows if it's 2 O'clock, 'Sakinah, you need to pray'. Then if it's like 5 O'clock, 'Sakinah, you need to pray.' 7 O'clock, 'Sakinah, you need to pray'."
Sakinah's father passed away in 2019. However, they still follow their family tradition. Before the first day of Chinese New Year, Sakinah, her family and close relatives on her father's side would have a reunion dinner. Unconventionally, their Chinese New Year feast is always Indian food because her uncle loves Indian food. 
Sakinah emphasizes that the reunion dinner is not about what is served on the table but about getting together to reaffirm their love for each other. "The word for reunion dinner is 'tuan yuan fan'. 'Tuan yuan' means completing a circle so that's why we have the Chinese tradition of flying back to your hometown for Chinese New Year."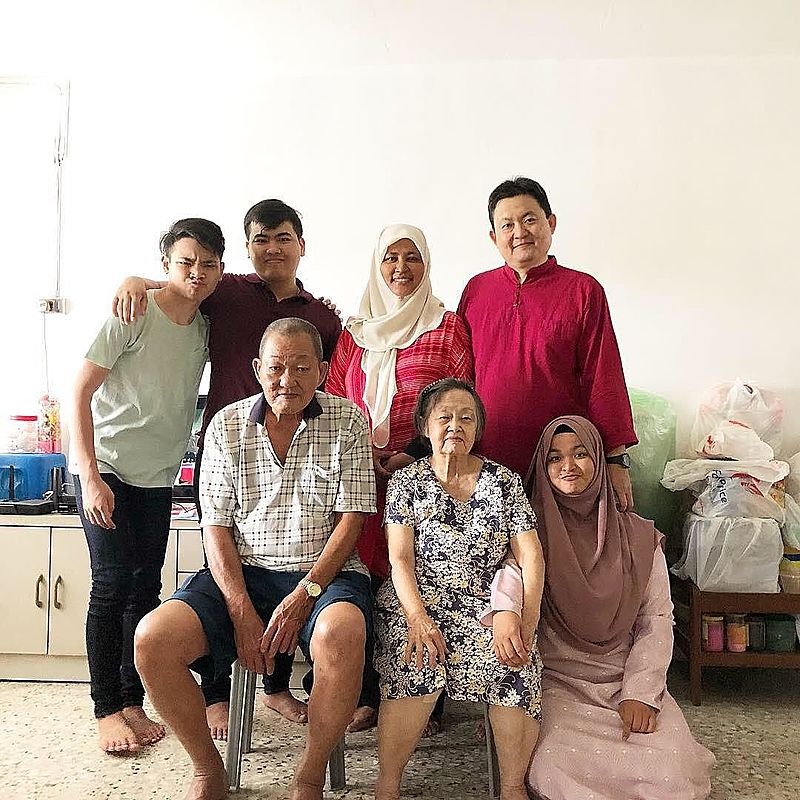 During Chinese New Year, Sakinah and her extended family would meet to eat, talk and play games. They are a diverse bunch that is made up of freethinkers, Christians and Muslims. "I really love Chinese New Year because it is the time when we would talk. We talk a lot about religion actually. For instance, my cousins have asked me, 'Why do you pray five times a day?' and I answered simply, 'So I don't forget God because humans are very forgetful.'"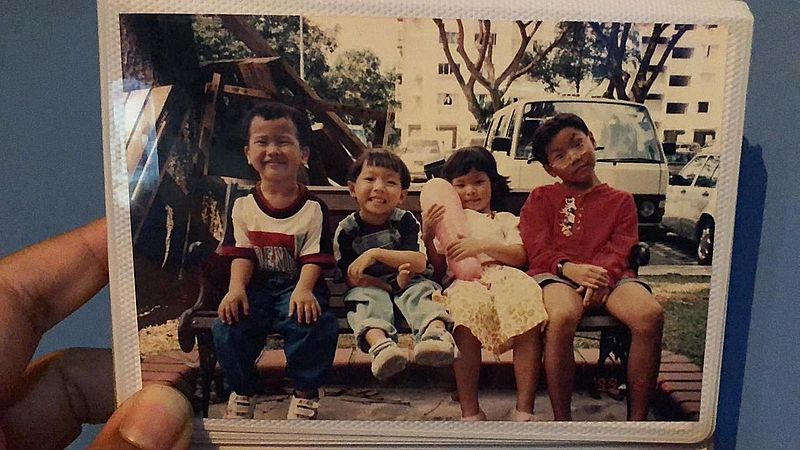 She's extremely close to her paternal grand uncle. When he saw her with her tudung on for the first time, he expressed concern that they would no longer be close and that they could not go cycling together anymore. Sakinah assured him that she's "still the same Sakinah" although she looked different.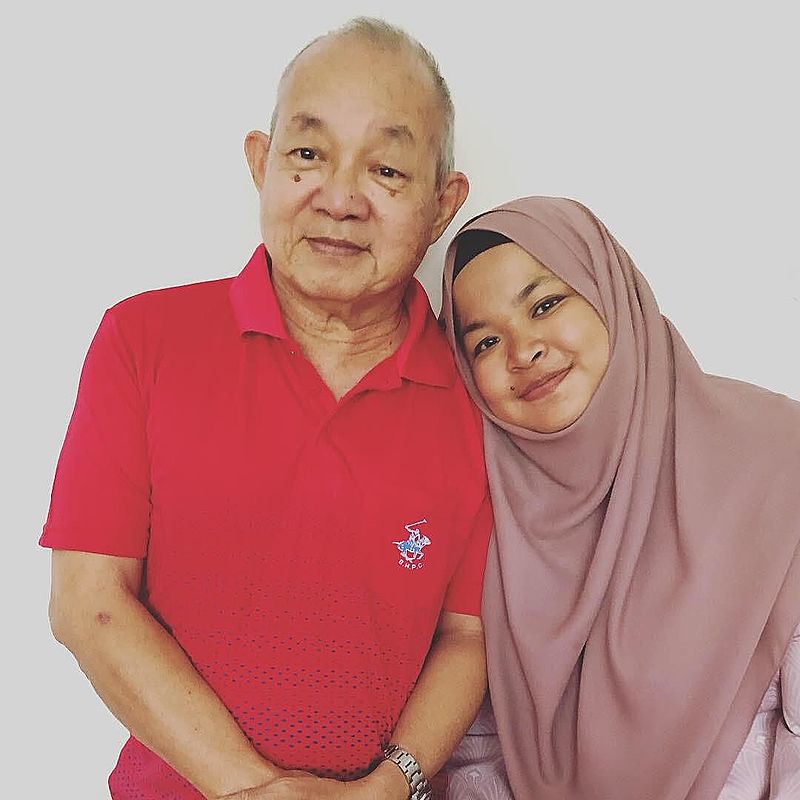 It's normal for Sakinah and her family to eat their Halal food and drink peach tea while there are beer and pork on the same table. She reminds us about the Sunnah, "If a person offers you something, you drink or eat it unless it's something you cannot."
When asked who inspires her the most, Sakinah replied that there are different people who have inspired her at various points of her life. However, her father inspires her the most. "My father was a person full of principles and both of us really like Umar Al-Khattab r.a, one of the companions of Prophet s.a.w. He was a man who was very hard about the boundaries set by the Prophet s.a.w. and Allah, but he was also a man of extreme love and heart if you look into his actions and his words. I think my father was like that as well. He was a person who brought joy to people."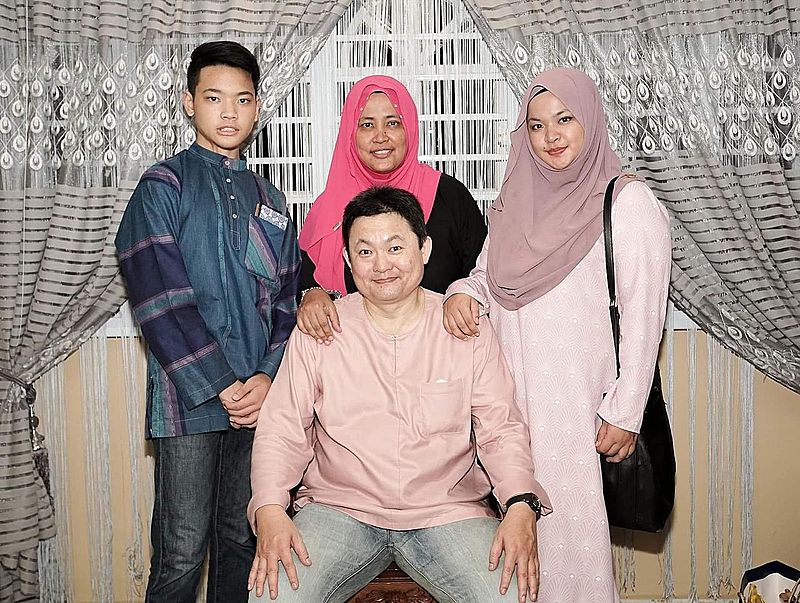 Sakinah did not expect a lot of people to be at her father's funeral. "On the day he died, all of his friends, even those during his NUS days, came back. All of them said the same thing about my dad - that he is a very fun-loving person, very kind and they actually were very sad about his passing. If you are inherently good as a person, it stays with people. I think that says a lot about him."
Her father used to tell her about how he always tried to help the Malay Muslim community. "So he started this fund that until today, I think it still goes on and is now run by AMP Singapore."
It was because of her father that Sakinah joined Rahmatan Lil Alamin Foundation (RLAF), that was set up by the Islamic Religious Council of Singapore (Muis) to rally the Singapore Muslim Community to be kind and compassionate towards everyone, regardless of race, colour or creed. "'Alamin' means the whole world or all of God's creations. At RLAF, we pride ourselves in doing humanitarian acts locally and globally. We've also helped refugees and these refugees are not always Muslim refugees."
What's Sakinah's hope for our community? "My hope is that people stop looking at race to judge someone's intelligence. I really hope one day that, although race does matter in a sense that we should know our roots and we should respect where we come from, it shouldn't be a defining factor of whether you get a job or not. It shouldn't be a defining factor of whether you are capable of doing something or not or holding a certain position. It comes with effort."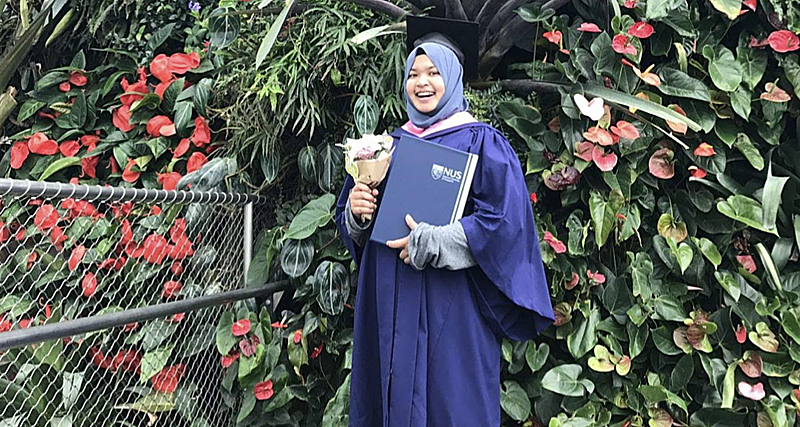 Sakinah has heard many hurtful comments from Chinese people who assume she is Malay and Malay people who did not know that she is Chinese. "I hope that the community at large could just be kind to one another. That's what I really want to see."
Read more stories of inspiring Muslims here.