Muslim.Sg is a one-stop online media platform that aims to inspire and empower millennial Muslims with powerful and engaging Islamic religious content.
Last year was an unprecedented year when the mosques were closed and we all had to go through Ramadan amidst the circuit breaker. Alhamdulillah, this year, our mosques are able to resume more worship services during Ramadan. 
One of the acts of worship that we all look forward to is the Terawih prayer. The Prophet Muhammad s.a.w. said: 
مَنْ قَامَ رَمَضَانَ إِيْمَانًا وَاحْتِسَابًا غُفِرَ لَهُ مَا تَقَدَّمَ مِنْ ذَنْبِهِ 
"Whoever prays during the night of Ramadan with īmān (faith) and in hopes of rewards (from Allah), his past sins will be forgiven for him." 
(Sahih Al-Bukhārī & Muslim)
As Singapore is still in phase 3 of re-opening, we still need to adhere to the current safety management measures. In view of the limited spaces available at mosques, online booking needs to be done in order to secure a prayer slot at the mosque. If you wish to perform their prayers at the mosque, do book a slot through https://ourmosques.commonspaces.sg or the online booking platform on the Muslim.SG app.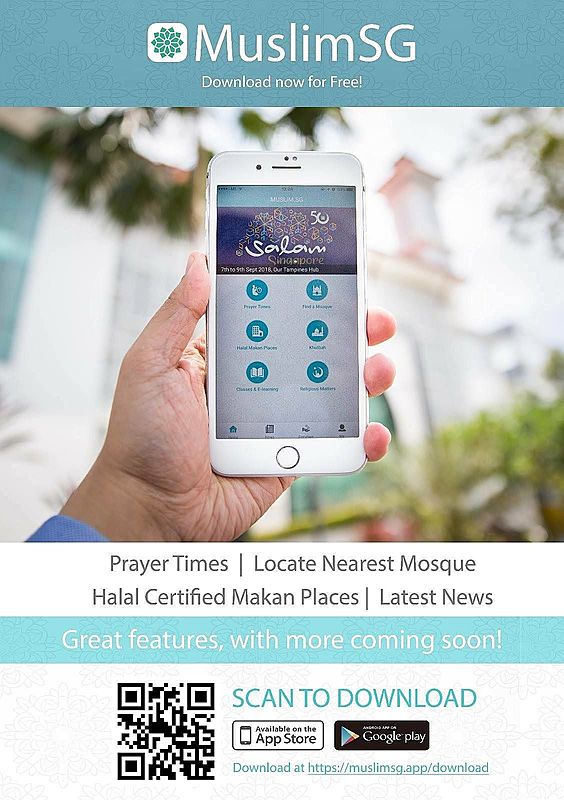 Here are 4 things you need to know about the Terawih booking for 2021:
1) When can I book Terawih slots?
There are 3 different booking windows for the entire month of Ramadan. Each window is for a set of 10 Ramadan nights. 
12 April 2021 to 21 April 2021 (Registration commences on 10 April 2021, 9pm)
22 April to 2021 to 1 May 2021 (Registration commences on 20 April 2021, 10am)
2 May 2021 to 11 May 2021 (Registration commences on 30 April 2021, 10am)
Each time a booking window is opened for that particular set of 10 nights, you can only book 1 Terawih slot for the first 2 days. After these 2 days are over, booking will be made available again for balance slots from that set of 10 nights.
Terawih prayers will be limited to 1 hour and will follow the approved safe management measures of each mosque. The number of prayer spaces will vary at each mosque, subject to the number of zones available. 
2) How many slots can I book for Terawih?
You can book 1 Terawih slot in the first 2 days of every window. After that, you can book as many remaining slots as possible.
3) Do I have to book a separate slot for Isyak prayers?
The Terawih prayers will begin right after Isyak prayers. Thus, the booking for Isyak and Terawih prayers are combined for the month of Ramadan. You will only need to book one slot for both prayers. 
4) Will there be spaces for Muslimah at the mosque for Terawih prayers?
Most mosques have spaces for Muslimah for Terawih prayers. Do refer to Muis' list of mosques with the availability of Terawih prayers, Muslimah zones and porridge distribution. 
In sya Allah, we will be able to perform at least one Terawih prayer at the mosque this Ramadan. However, if we are unable to get a slot, let's not be too sad. Narrated in a hadith, our Prophet Muhammad s.a.w. said,
"Actions are (judged) by intentions (niyyah), so each man will receive what he has intended for." 
[Bukhari & Muslim] 
With the intention that we have in our hearts to perform Ibadah at the mosque, Insya'Allah, we will still be getting the rewards. 
Read: How To Pray Terawih At Home - Step by Step Guide
There are many benefits of praying in a congregation. To get your Terawih questions answered, Ustaz Irwan Hadi from Office of the Mufti together with Ms Marina Yusoff and her family share how you can do your Terawih prayer at home: