Muslim.Sg is a one-stop online media platform that aims to inspire and empower millennial Muslims with powerful and engaging Islamic religious content.
Muis Hari Raya prayer booking
We're in the last few days of Ramadan and will celebrate Hari Raya Aidilfitri soon, InsyaAllah. This is a day of victory for us after striving hard to be the best versions of ourselves with patience, perseverance and faith. 
It is part of the Sunnah to recite the Takbir in celebrating Aidilfitri and expressing our deepest gratitude to Allah s.w.t. after blessing us with the holy month of Ramadan. On the eve of Hari Raya, do join Singapura Bertakbir and takbir with us by tuning in to Salam SG TV's YouTube and Facebook. You can watch it live and takbir together with your loved ones. Simply casting the YouTube video to your smart TV!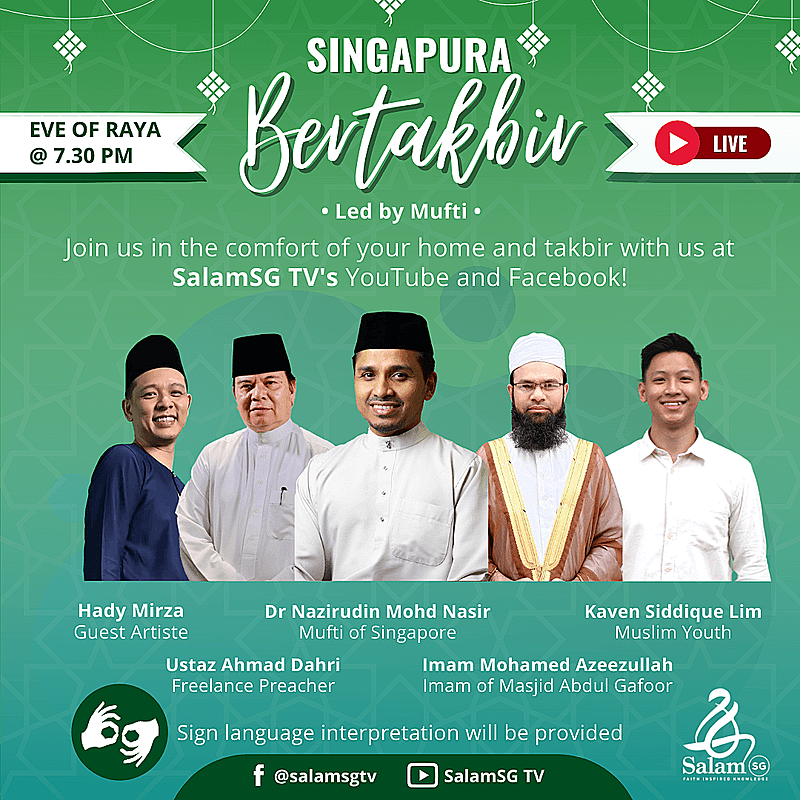 Unlike last year, when we celebrated Hari Raya during the circuit breaker, the mosques will be open for the Sunnah Aidilfitri prayer, with limited capacity. Bookings can be made via https://ourmosques.commonspaces.sg/ or the Muslim.Sg app. 
Here are 3 things you should know about the Hari Raya prayer booking for 2021:
When can I book my slot for Hari Raya prayer?
The booking of Hari Raya Aidilfitri prayer will commence tomorrow, 11 May, at 10 a.m. 
Which mosques will be offering Hari Raya prayer?
Most mosques will offer up to three prayer sessions, limited to 100 congregants each. Muslimah zones are also available at selected mosques. Do refer to the infographics below: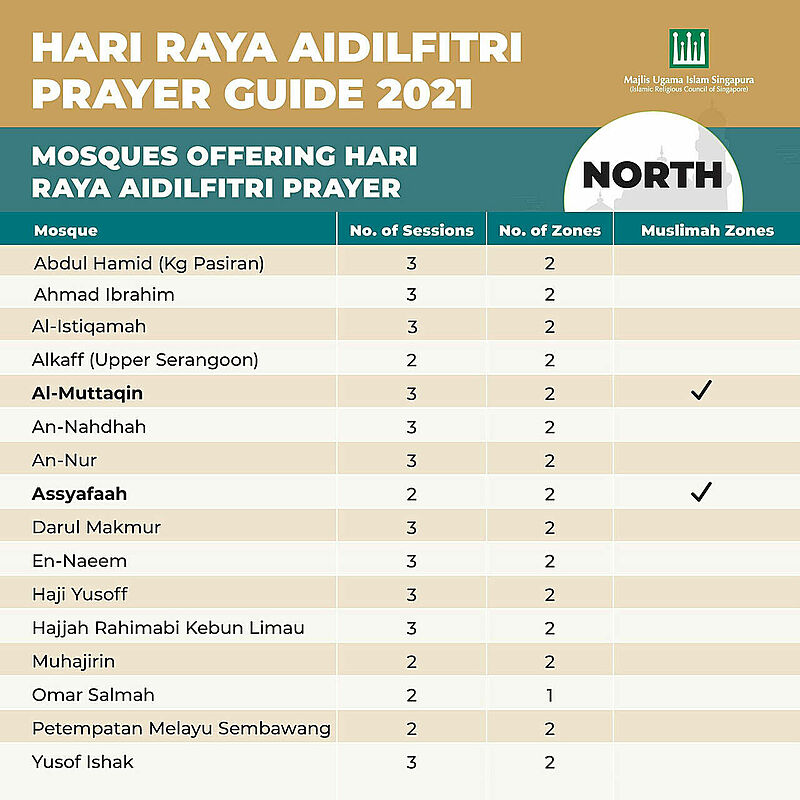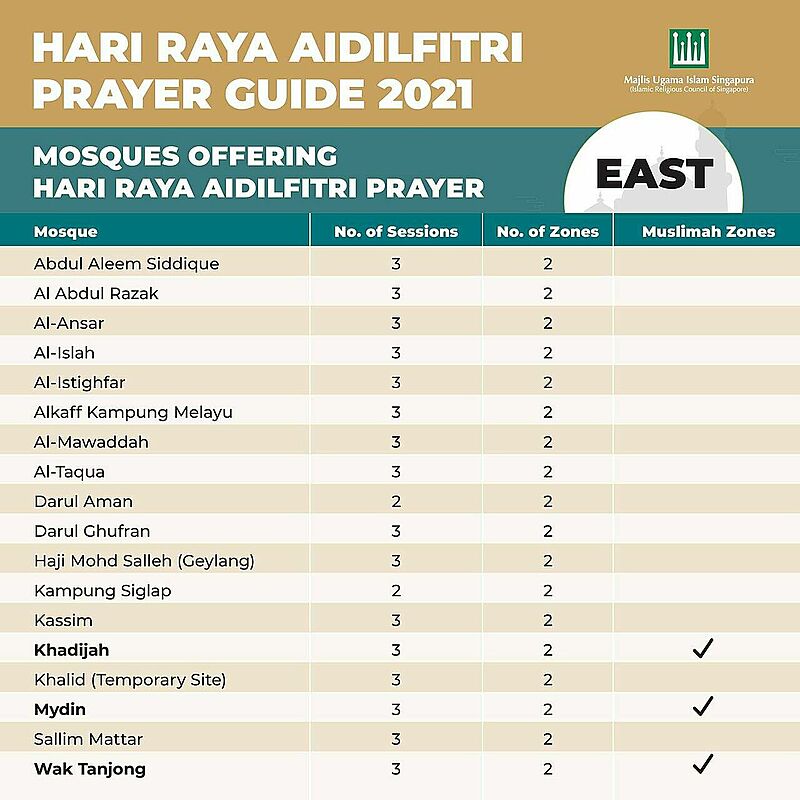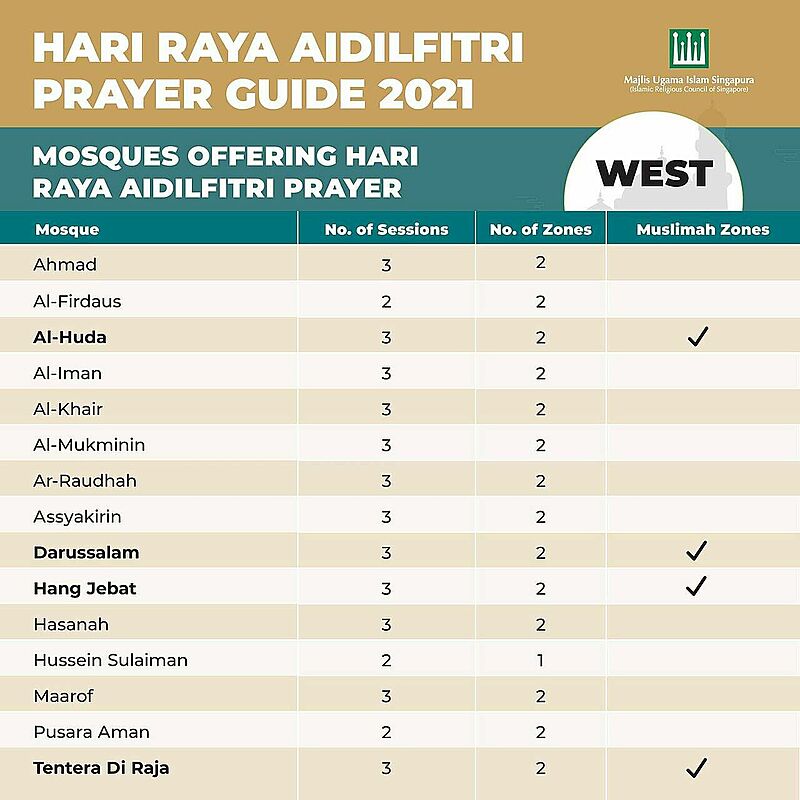 What time does each Hari Raya prayer session start and end?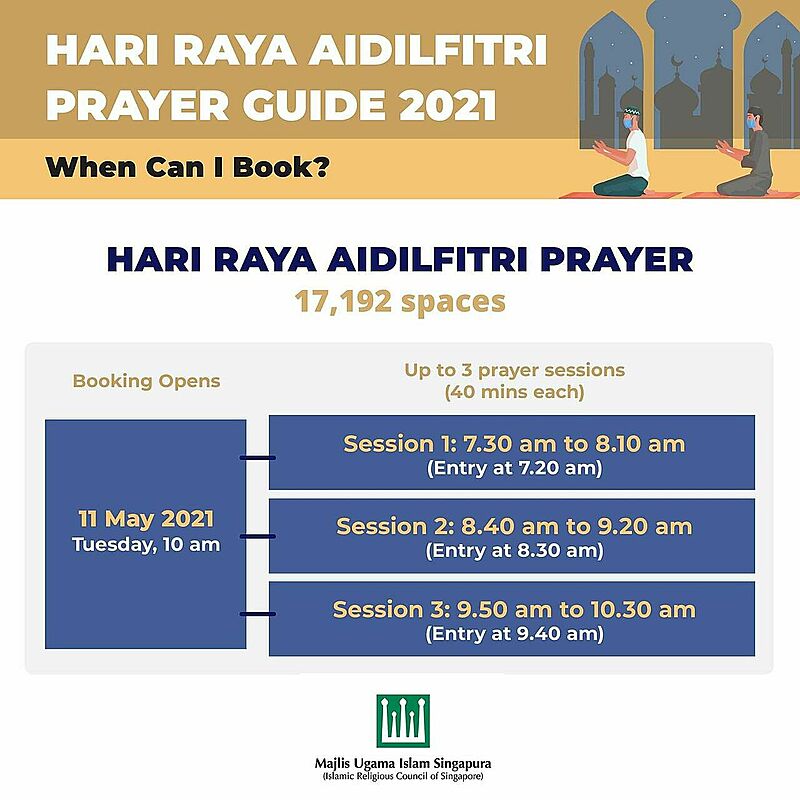 Many of us may not be able to pray Hari Raya prayer at mosques this year. However, we can still uphold the sunnah of Aidilfitri prayer by performing it at home with our loved ones or individually. Do read this step-by-step guide on performing Aidilfitri prayer at home here. 
Also, don't forget to tune in to the live broadcast of the Aidilfitri sermon at 7.40 a.m. on SalamSG TV after performing the Hari Raya prayer. 
Have you watched Muslim.Sg's latest short film?