The SUPER LONG weekend is finally here! As we look forward to the lit weekend celebrating our nation's birthday plus Hari Raya Aidiladha for our Muslim friends, we can foresee mosques all over Singapore to be super packed for Friday prayers (especially those located within big housing estates)
But DID YOU KNOW, there are still some mosques around which may not be as crowded as most others? Since it's a public holiday, why not explore these mosques!
Check out this list of seven mosques you can explore to perform your Friday prayers this week.
1. Masjid Al-Amin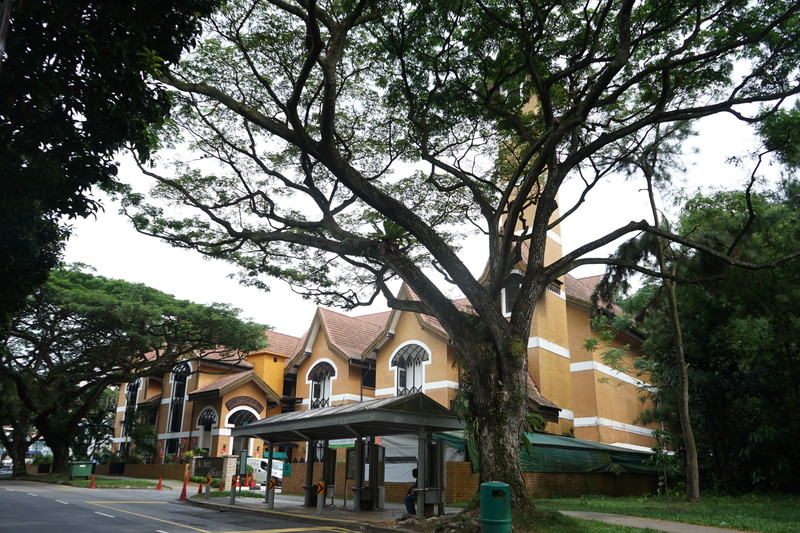 Located amidst the lush greeneries of Telok Blangah at the foot of Mount Faber Park, this mosque with its brown structure stands out from the towering blocks around it. Inspired by Sumatran Minang – the same culture which brings you your Nasi Padang – architecture, it was built in 1991 with resources from the Mosque Building Fund (now known as Mosque Building and Mendaki Fund – MBMF). The mosque can accommodate about 3,000 congregants at any one time.

50 Telok Blangah Way, Singapore 098801

6272-5309

124, 131, 195, 195A, 272 (Telok Blangah Way)

CC28 Telok Blangah Station (22 min walk)
2. Masjid Jamiyah Ar-Rabitah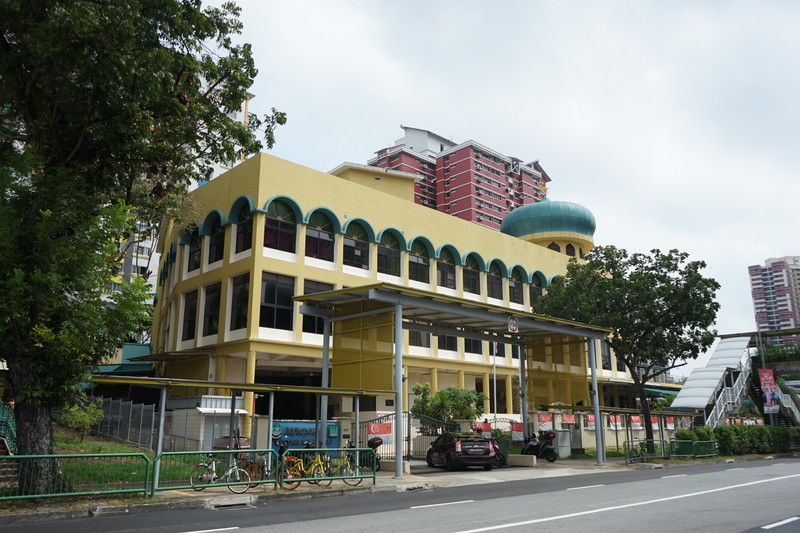 The mosque was official opened in 1962. However, plans to build the mosque started in the 1950s for the Muslim community in the area which used to be known as Alexandra City Council Quarters, Henderson Hill, Redhill Road.
With the help of Jamiyah Singapore and the support from Haji Syed Ali Redha Alsagoff and Haji Baharuddin, a piece of land between Tiong Bharu Road and Henderson Road was obtained and approved by the Government for the site of a new mosque. Funds were then raised, including a huge donation from Jeddah-based charity, Rabitah Al-Alam Al-Islamiah. To commemorate the two organisations for the important role they played in the building of the mosque, the mosque was named "Jamiyah Ar-Rabitah".
In 1983, to better meet the growing needs of Muslims in the area, the mosque was demolished and rebuilt. It was officially reopened on 9 August 1985, in conjunction with the celebration of Singapore's 20th National Day, by then Mufti of Singapore Syed Isa Semait.
So if you choose to pray in this mosque this National Day, you'll be sharing an important milestone date with this beautiful mosque!

 601 Tiong Bahru Road, Singapore 158787

 6273-3848

 32, 33, 33A, 63, 64, 120, 132, 145, 145A (Tiong Bahru Road)

 EW18 Redhill (5 min walk)
3. Masjid Hajjah Rahimabi Kebun Limau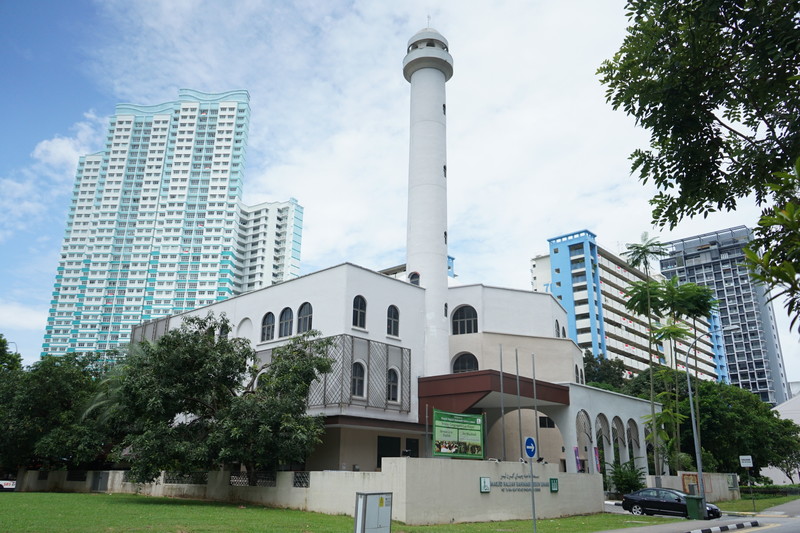 The history of the mosque began in 1959 when Muslim residents gathered to discuss the need for a surau (Muslim prayer hall) in Kebun Limau. They requested for land on Kim Keat Road and the government granted them in 1961.
The first surau was a simple 2-storey concrete and wood building, with a main prayer hall on the second floor and an office and a store on the ground floor. It was then known as Masjid Kebun Limau. As the Muslim community expanded in the 1970s, fundraising began for the expansion of the surau.
In 1981, Hajjah Rahimabi Ahmad Angullia donated $1.6 million from the sale of a land inheritance from her late father to the building of a new mosque in the memory of her daughter who passed away in 1976.
A mosque was then built on the existing plot and renamed Masjid Hajjah Rahimabi Kebun Limau in honour of the generosity of Hajjah Rahimabi. The new building was completed in 1984.

 76 Kim Keat Road, Singapore 328835

 6255-8262

 21, 124, 125, 131, 131A, 139, 186 (Kim Keat Road)

 NS20 Novena (21 min walk)
4. Masjid Kampung Siglap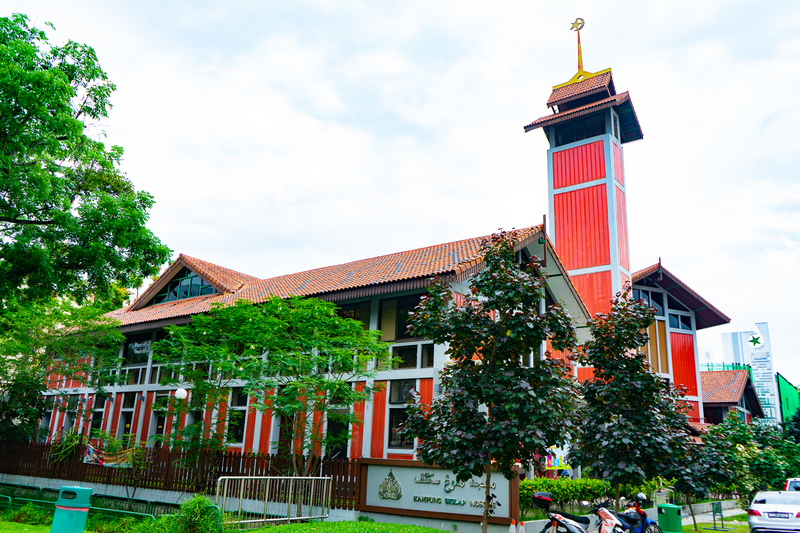 No one knows exactly when the mosque was first built. The earliest documented date was etched on a Quranic Frame which was hung behind the mihrab of the old mosque building. It was 27 Ramadan 1320H, which coincides with Sunday, 28 December 1902.
However, this is not the date the mosque was first erected. Oral history from the old Kampung Siglap villagers mentioned that the mosque had been thrice repaired. The Quranic Frame was apparently put up either during the second or third repair work. Some literature records state that the mosque was first built in 1846 as a small wooden structure. It was widely believed that the mosque was collectively built by the village folks. The plot of land where the old mosque was built had been bought by the late Madam Hajijah, mother of the late Mr Daud Bin M. Shah J.P, also known as Tok Teh Daud. Jalan Hajijah nearby is named after her.
When the mosque was rebuilt in 1980s under the Mosque Building Fund (MBF) scheme, the old mosque building was not demolished, but preserved alongside the new structure and converted into Darul Quran Singapore – a new Quran learning centre. The new mosque was officially opened in 1992.
In 2009, just months after it completed a major upgrading work, a fire destroyed much of the mosque's prayer hall. The mosque was then closed for reconstruction works and reopened in 2011.

 451 Marine Parade Road, Singapore 449283

 6243-7060

 31, 36, 36A, 36B, 43, 47, 48, 55, 135, 135A, 155, 196, 196A, 196e, 197, 401, 853C (Marine Parade Road)

 EW6 Kembangan (32 min walk)
Watch Masjid Kampung Siglap on Episode 2 of Seeking Spaces!
5. Masjid Alkaff Upper Serangoon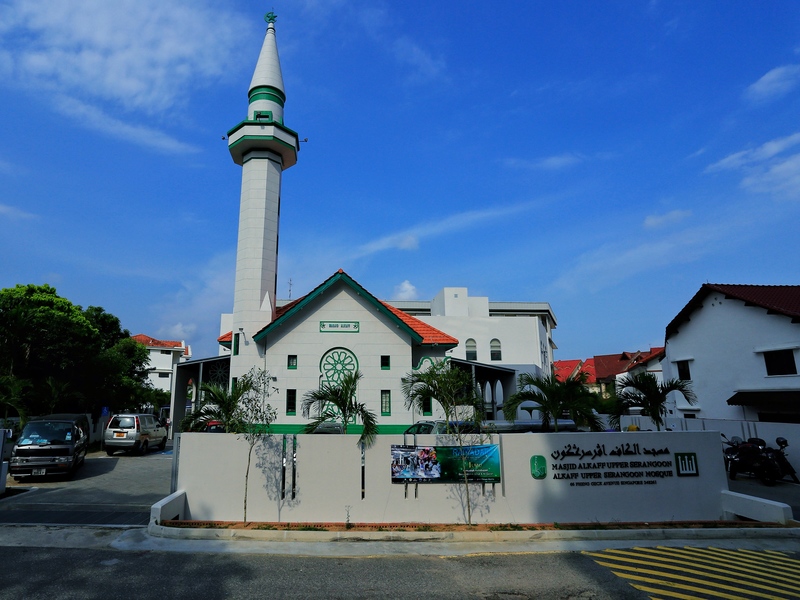 Opened in 1932, the mosque was constructed by the mercantile and landowning Alkaff family to serve the spiritual needs of the local Muslim community at large. It stands as a reminder of the Arabs' philanthropic deeds and their contributions to colonial Singapore. Syed Abdul Rahman bin Shaikh Alkaff, the head of the Alkaff family in Singapore, funded the mosque's construction on his land.
The mosque has an eclectic design that combines various architectural styles. The minaret is one of its most outstanding elements, which unlike the minarets of many other mosques in Singapore, the mosque's minaret is pencil-like, a feature popular in Ottoman architecture.
In March 2014, the mosque completed its latest restoration and renovation works and in December the same year, was gazetted as Singapore's 68th National Monument.

 66 Pheng Geck Avenue, Singapore 348261

 6280-0300

 13, 107, 107M, 133, 147, 147A, 853, 853C (Upper Serangoon Road)

 NE10 Potong Pasir (3 min walk)
Watch Masjid Alkaff Upper Serangoon on Episode 3 of Seeking Spaces!
https://muslim.sg/articles/181
6. Masjid Al-Huda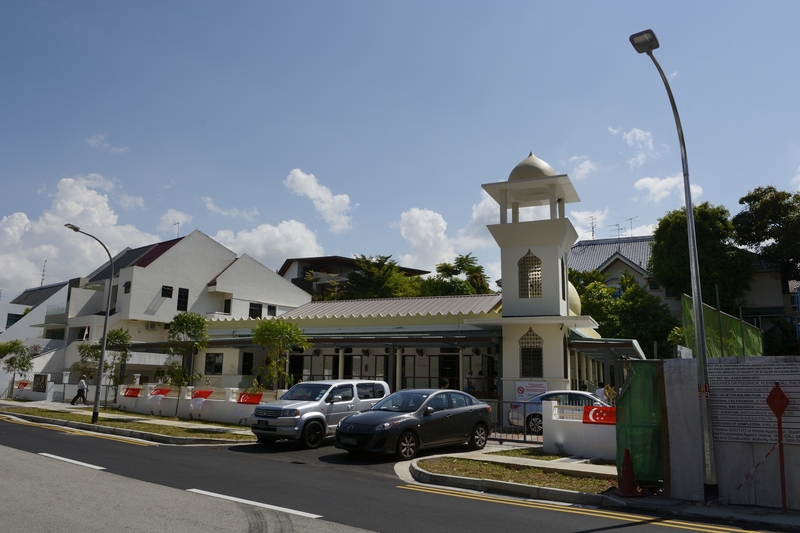 The current structure was built in 1966, but the mosque's history went back to 1905 when the land was placed into a wakaf for the building of a mosque, and subsequently a small mosque was then built on the land. In 1925, a proper mosque structure – akin to mosques found in Java – was built and named Masjid Kampong Coronation.
In 1966, the mosque was rebuilt into its current structure. A dome was added and its similarity with the dome of Masjid Sultan is striking. That's because villagers told the builders to actually take reference from Masjid Sultan!
In 1971, the mosque was renamed Masjid Al-Huda. In 2014, the mosque underwent enhancement works and can now accommodate 350 congregants. Its activities are confined to daily and Friday prayers as well as celebrations of Islamic festivities.

 34 Jalan Haji Alias, Singapore 268534

 6468-4844

 77, 156, 970 (Sixth Avenue)

 DT7 Sixth Avenue (16 min walk)
Watch Masjid Al-Huda on Episode 4 of Seeking Spaces!
https://muslim.sg/articles/186
7. Jamae Chulia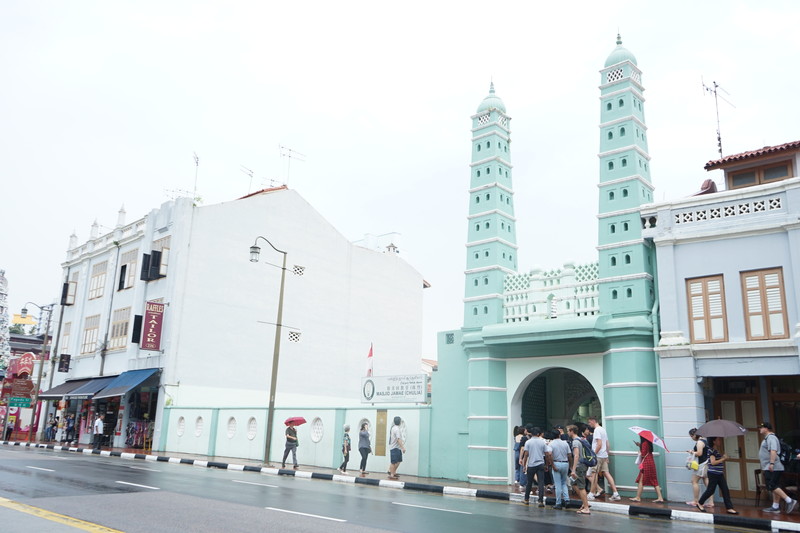 As early as 1826, the mosque has already existed, a testimony to the large number of Tamil Muslims in Chinatown. The present brick and plaster building was completed between 1830 and 1835. It is not a coincidence that the street on which it is located is named 'Mosque Street' and this mosque is always referred to as 'Periya Palli', which means 'Big Mosque' in Tamil. In 1917, the mosque became an asset of Wakaf Jamae.
The mosque's architectural style is eclectic. While the entrance gate is distinctively South Indian, the two prayer halls are Neo-Classical style, typical of George Drumgoole Coleman. This unique appearance has made the mosque a well photographed landmark, seen in postcards from the 19th century to the present day. The mosque was gazetted as a national monument on 29 November 1974.
Currently, the mosque excels as an 'educational' mosque. In addition to facilitating religious activities, prayers and sermons, it organises seminars and discussions on religious and social thoughts and beliefs for both Muslims and non-Muslims.

 218 South Bridge Road, Singapore 058767

 6221-4165

 61, 166, 197 (South Bridge Road)

 51, 63, 124, 174, 174e, 186, 851, 851e, 961, 961C, 970 (Upper Cross Street)

 DT19 Chinatown (2 min walk)
To find out more about our mosques in Singapore, click here https://muslim.sg/mosque.